About Us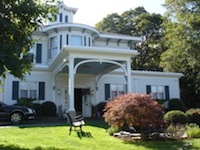 Carroll-Thomas Funeral Home in Hyde Park has been family owned and operated for over sixty years and three generations. When Alexander F. Thomas Sr. first came to Boston in 1932, to attend medical school, he began apprenticing with the owners of the Carroll Funeral Home, Michael Carroll and his wife Mary. After the passing of Mr. Carroll, Alexander renamed the funeral home Carroll-Thomas and continued to operate it with his sons until he passed away in 1999. Alex Jr. continues to operate the Carroll-Thomas Funeral Home with his sons in the footsteps of his father.

Alexander F. Thomas & Sons Funeral Home in Walpole, formerly the Tracy Funeral Home, was purchased and established in 2006. It is owned and operated by Alexander F. Thomas Jr., his wife Marcia Thomas and their sons Alexander F. Thomas III and Roger A. Thomas. After a lot of time and hard work, we recently finished expanding and remodeling the existing funeral home to better suit the needs of families in the Walpole area. We took our experience and knowledge from years of service to families in Hyde Park and applied it to every aspect of the renovation in Walpole. We have also added a casket viewing room as well as expanding the existing chapel to accommodate larger families in their time of need.

Both of our facilities are handi-capped accessible and are large enough to comfortably accommodate multiple families at one time.
What is most important is that we truly are a family. We have experienced sickness, troubles and sadness like your family. We care deeply and take pride in what we do everyday. We are a family that works together as a team, from who does the floral arrangements, to styling hair, we all work together.We watch out for one another and take pride in our community, from the baseball team to the church that we worship in. Our father would be proud of his children and their children and someday their children, for this will always be a family business.We look forward to earning your trust.