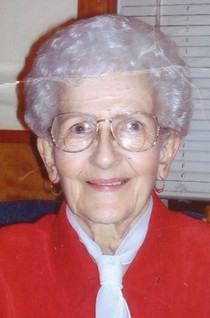 Sophia R. (Michalski) Roessle, 98, passed away peacefully on September 17, 2019 at St. Clare Commons where she currently resided for the past 5 years. Sophia, the daughter of John Francis and Frances (Sobkowiak) Zielinski, was born on September 24, 1920 in Poznan, Poland. In 1928, Sophie and her family moved to the United States where they resided in Toledo.
Sophie began her working career at Champion Spark Plug, then she worked many dedicated years and retired from Optometrist, Dr. Pietrykowski. Sophie was a devoted and founding member of St. Patrick of Heatherdowns Church with her husband Steve. She was also an Eucharistic Minister, a member of the Funeral Choir at St. Pat's, as well as a member of the St. Frances Guild. Sophie enjoyed bowling, gardening, sewing, and cooking where everyone loved her delicious coffee cakes.
Sophie was preceded in death by her first husband, Stephen Michalski; second husband, Lawrence "Curley" Roessle, Sr.; daughter, Stephanie Rocker; son, Thomas Michalski; and brothers, Leo and John S. Zielinski.
She will be dearly missed by daughter, Jeanette (Harry) Morell; daughter-in-law, Carol Michalski; son-in-law, Richard Rocker; sisters, Joan (Jerry) Pistilli and Sr. Jeanette Zielinski, Sylvania Franciscan; and Busia to 7 grandchildren and 5 great grandchildren; many nieces and nephews and great nieces and nephews.
Family and friends may visit on Sunday, from 2-8:00 p.m., with scripture services at 7:00 p.m., at the W.K. Sujkowski & Son Funeral Home, 3838 Airport Hwy. Funeral services will be held on Monday, September 23, 2019 with prayers in the mortuary at 9:30 a.m. followed by the Funeral Mass at St. Patrick of Heatherdowns Church at 10:00 a.m. Interment will follow at Calvary Cemetery.
Memorial tributes may be directed to St. Patrick of Heatherdowns Church or to the Sisters at St. Francis of Sylvania, OH.