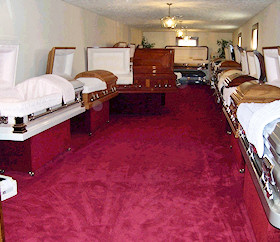 We have a wide selection of caskets, urns, vaults and more. On this page each product image will open a larger version by simply clicking on it.
Caskets
Steel Caskets
Until the 20th Century most caskets were constructed of wood. They were built one at a time by skilled cabinet and casket makers in almost every town throughout the country. What was needed, however, was a protective casket that would completely resist the entrance of air, water and soil. Batesville Casket Company was first to develop and mass produce steel caskets that provide affordable protection, exceptional beauty, and superior quality.
Click one of the images below to view a large copy of it. When viewing the image, click on the left or right edges to scroll forward and back through all images.