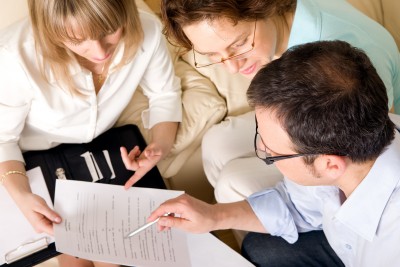 There are many ways that one can express love. One of the most thoughtful involves funeral pre-planning before the need arises. Pre-planning provides peace of mind for everyone involved. A pre-planned service can be the most comforting to your surviving family and spares them from having to face decisions that are very difficult at the time of death.
Your Satisfaction Is Our Goal
Before the need arises.......... Our plan is a very sensible and easy plan to utilize. It is without a doubt that many people are pre-planning their funeral with us today. It gives them lasting peace of mind to know that their survivors acted in accordance to their plans. Your plans can be as simple or as detailed as you wish. You may select the services, casket, music etc. or simply record with the funeral director these needs on legal paperwork.
Without cost or obligation....... we will explain exactly the our pre-planning can for you and for your surviving family. We will gladly review the many different options and payment plans to suit your needs, all at your convenience. With our program we offer a variety of prepayment programs which allow you to control cost, avoid emotional overspending, and guarantee today's price. Here at SEAGLES we offer a variety of plans to help you plan for tomorrow within your personal budget. We can meet with you at your home or the funeral home to discuss these various programs. Many firms, especially those owned by large corporations, employ commissioned sales people to perform those duties. However, here at SEAGLES, you would be meeting with a Licensed Funeral Director, and more importantly an owner of the firm who understands your sensitivities and your needs.
Once your pre-arrangements are made...... and on file, when the time of need arises, a call to our funeral home will be the only necessary step to proceed with your plans. If you have already made arrangements with another funeral home, but would now prefer SEAGLES, we have a transfer program that insures your initial decisions are kept intact at SEAGLES. For further information feel free to contact us by telephone or complete the form below. Remember that by doing so, there is no cost or obligation upon your part.
You can email us some basic information to help us help you by filling out this form.