About Us
About Us |
Contact Us
---
Tradition Matters

Tradition matters at the time of bereavement. Area families have found comfort

with the services provided by the McKinney Funeral Home for almost a century.

It all began with H. H. Hull, who established his funeral practice in 1906, beginning a tradition of caring service that has spanned generations. Mr. Hull passed on this tradition to Earl E. Young; Mr. Young employed Donald E. McKinney for 17 years before passing it
on to him. Mr. McKinney employed his daughter, Cindy, for 20 years
before passing the tradition to yet another generation.

Cindy
McKinney is currently the supervisor of the Youngsville facility, while Cassandra M. Brigham supervises the Sugar Grove location. Cindy McKinney and Cassandra Brigham are licensed funeral directors who live in the area that they serve and look forward to continuing the tradition in a community that they love and support.
---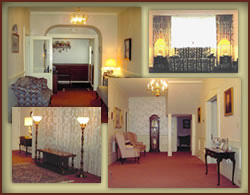 Our Youngsville Facility
Earl Young moved the funeral home business from East Main Street to West Main Street in 1948 when he purchased the new building from Anna Kay. Several renovations have takenplace to the Youngsville facility in the past 50 years, with the addition of a large chapel, handicapped ramp, new paved parking lot and central air-conditioning. The spacious visitation rooms are accommodating to the family and friends who come to show their support to those who are grieving.
---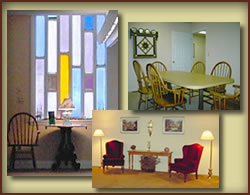 Our Sugar Grove Facility
The Sugar Grove branch facility was opened to provide a more convenient location for families in the Sugar Grove area. The building was the former Free Methodist Church; therefore, the chapel area is large and with the addition of the rear parlor, has a seating capacity of over 200. The funeral home has been remodeled with a country decor in keeping with the atmosphere of the rural community.

At McKinney Funeral Homes and Cremation Services, Inc., we believe that economical
service and quality care are essential and
available for all families who place their trust in us.

Our Staff
Cindy McKinney
mckinneyfuneralhome@gmail.com
I am the supervisor of the Youngsville facility. As a funeral director, I provide comfort to family and friends of the deceased, arrange details and handle the logistics of funeral and cremation services. Through personal interviews with the deceased's family, I guide them toward the most meaningful funeral or cremation service.

After these choices are made, I help arrange the clergy members or other person who will officiate the service. With the family's assistance, I establish the service location, date, and time of the visitation and viewing ceremonies, memorial services and cemetery committal services. Depending on the service choice, I will arrange for a hearse to transport the deceased from the funeral home or mortuary to the final resting pace.

I also prepare obituary notices and place them in desired newspapers, arrange for pallbearers and clergy, and schedule the opening and closing of the grave with the cemetery.

My goal is to carry out all of these responsibilities with discretion and compassion in order to serve the families in my community.

I grew up in the funeral business prior to graduating from Duff's Business College in Pittsburgh, Jamestown Community College in Jamestown, New York and the Pittsburgh Institute of Mortuary Science.