Callaway Funeral Home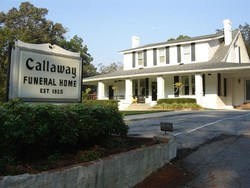 Callaway Funeral Home In Union Point Purchased by J.H. McCommons Company
Malcolm Callaway Sr. started Callaway Funeral Home in Union Point in 1925. He and his son served Taliaferro, Oglethorpe and Greene Counties for over 70 years.
Callaway Funeral Home in Union Point was recently purchased by the J. H. McCommons Company of Greensboro. McCommons Funeral Home has served Greene County with dignity and respect for over 100 years and 5 generations.
Mr. Malcolm H. Callaway Sr. started his business in a store building in downtown Union Point in 1925. Callaway Funeral Home was opened in the present location by Mr. Malcolm H. Callaway Sr. and his son Mr. Malcolm H. Callaway Jr. in 1949 in one of Union Point's most historic homes.
The house was built by R. A. Newsome a member of one of Greene County's pioneer families, circa 1835. Mr. Newsome operated a small store on his front lawn and Union Point's first post office was located in the rear with W.P. Lawson serving as postmaster in 1939. It remained in the Newsome family until it was converted into Callaway Funeral Home in 1949. The house was remodeled in the fashionable arts and crafts style of the era.
The Callaway family served the Union Point area with excellence for many years and we are pleased that the tradition will continue with the McCommons Family.
"We plan to offer a full range of services including traditional burial and cremation," says Billy McCommons. "We want to offer a helping hand to guide family and friends through a difficult time and to make sure every detail is carried out as if it were for one of our own family members."
"My staff and I become personally involved with every family we serve," says Steve McCommons. "We want to offer a full array of options to celebrate each life so that each service can be individualized and personal for that family."
McCommons continues, "We would like to thank the community for the trust and confidence you have placed in us in the past and as we continue to serve your individual needs. We have been a caring part of this community for over 100 years and 5 generations and we will always be right here when you need us. If you have any questions you can contact us at 706-486-4138."