Cory M. Swaink
Born:
Sun., Aug. 24, 1980
Died:
Thu., May 23, 2019
---
Visitation
6:00 PM to 8:00 PM, Tue., May 28, 2019
Location
:
Gude Mortuary
---
Funeral Service
10:30 AM Wed., May 29, 2019
Location
:
Gude Mortuary
---
---
---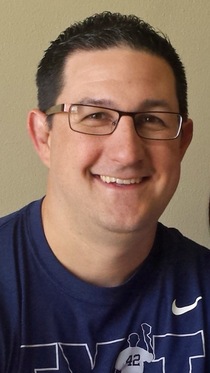 Cory M. Swaink, age 38 of Davenport, IA (formerly Nebr. City and Hamburg) passed away on May 23, 2019.

He was born on August 24, 1980 in Hamburg, IA; the son of Michael L. and Cynthia A. (Woods) Swaink. He attended school in Nebraska City and Hamburg and graduated from the Hamburg High School with the Class of 1999. He attended Northwest Missouri State University at Maryville, MO and later attended and graduated from Iowa Lakes Community College with an Associate Degree in Retail Sales and Marketing.

He was united in marriage to Brittney Erin Kennell on June 20, 2015 at Dunbar, NE. Cory was currently working for Media Com in Moline, IL as a Construction Tech. He loved wrestling and baseball and especially enjoyed coaching his sons.

He is survived by his wife Brittney of Davenport, IA; children: Uriyah Swaink of the home; Aubrey Swaink of Plattsmouth, NE and Clemens, Ace and Elliot Swaink all of Conesville, IA; his mother Cindy Gregg (Mike) of Hamburg, IA, father Mike Swaink (Trish) of Omaha, NE; maternal grandparents Don and Mary Lou Woods of Dunbar, NE, father and mother in law Bob and Barb Kennell of Hamburg, IA, siblings: Chris Swaink (Brandi Herling) of Auburn, NE, Nikki Swaink (Dakota Koehrsen) of Council Bluffs, IA, Michael Gregg (Allison) of Hamburg, Jennifer Fidone (Matt) of Council Bluffs, Nick Micek (Amanda) of Duncan, NE and Kristin Weinand (Tyler) of Omaha; numerous nieces, nephews, aunts, uncles, other family and friends.

He was preceded in death by his paternal grandparents Charles and Rosemary Blevins.

Funeral Services will be held Wednesday (5/29) at 10:30 a.m. at Gude Mortuary in Nebr. City with Pastor Don Moore officiating. Burial will be in Wyuka Cemetery at Nebr. City at a later date.

The family will greet friends from 6:00 p.m. to 8:00 p.m. Tuesday at Gude Mortuary.

Memorials may be given to the family.


| | |
| --- | --- |
| Click the button to generate a printable document containing all condolences submitted | |
Ryan Keneaky

Posted Mon May 27, 2019

I attended school with Cory at Northside school and got to know him he was a great guy always had a smile on his face and athletic too he always beat me in kickball we still had fun We went on to junior high which became the middle school and we would still talk here and there not as much though before we knew it we lost contact with each other I would've given anything to see him one more time and catch up with each other and there was a lot to catch up on lol.I'm going to miss him dearly to the family my heart goes out to you all .Cory I'll see you on the other side someday til then goodbye my friend
Diane Schnitzer McGee

Posted Mon May 27, 2019

To Cory's family,
He was a wonderful student and person for me back in the days of Nebraska City Middle School. Hugs for all of you.
David Zimmer

Posted Mon May 27, 2019

Mike,
I was truly sorry to hear about this. May you find comfort in the time you had and by those around you. You are in my thoughts and prayers.

David Zimmer
gary and carol barrett

Posted Mon May 27, 2019

DEAR FRIENDS, YOU ARE IN OUR THOUGHTS AND PRAYERS. WORDS OF COMFORT FOR YOU, PSALM 121 1-2 I LIFT MY EYES TO THE HILLS- WHERE DOES MY HELP COME FROM? MY HELP COMES FROM THE LORD, THE MAKER OF HEAVEN AND EARTH. GOD HOLDS YOU IN THE PALM OF HIS HANDS. HE WILL NEVER FAIL YOU. HE IS YOUR STRENGTH TO GET YOU THROUGH THIS TIME OF SORROW. GOD BLESS GARY AND CAROL
Nancy Middaugh

Posted Tue May 28, 2019

To Cory's family, Sadness fills my heart to learn of Cory's passing. I truly enjoyed having Cory as a student. He took every possible business class he could at Hamburg High and worked hard in all of them. He had a great attitude, a wonderful smile, and mischievous eyes. May God be with you in your sorrow. May you find memories to bring smiles among your tears. Hugs, Nancy M
Gayle Meek

Posted Tue May 28, 2019

Deepest Sympathy for your loss. Keeping you in my thoughts & prayers.
Susan Canterbury

Posted Tue May 28, 2019

A GARDEN PATH was sent by Your friends at Mediacom.

With heartfelt condolences - Your friends at Mediacom
Jessica Holtkamp

Posted Tue May 28, 2019

SPATHIPHYLLUM was sent by The Holtkamp's.

From your family at Floors Décor, Bob & Jess and Dave & Sandy.
Danielle Olberding

Posted Tue May 28, 2019

I spent a large part of my childhood in Mike & Cindy's home in Hamburg, and remember Cory fondly. My heart aches for all of you during this unthinkable time. I pray that somehow, someday you will be able to find peace. Sending my love to all of you! --- Danielle