Ulysses Alfred Bellamy Jr
Born:
Thu., Jun. 2, 1960
Died:
Mon., Oct. 28, 2019
---
Visitation
9:00 AM to 11:00 AM, Sat., Nov. 09, 2019
Location
:
St. Luke's UM Church
---
Funeral Service
11:00 AM Sat., Nov. 09, 2019
Location
:
St. Luke's UM Church
---
---
---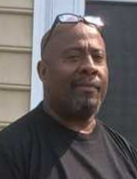 Ulysses A. Bellamy Jr. better known as "Huggii," was called home unexpectedly on Monday October 28, 2019 at Easton Memorial Hospital in Easton, MD.
Huggii was born to the late Ulysses Bellamy Sr (by name sake), the late Louis Neal Sr. and the late Nancy Mae Johnson. He was raised by his grandmother, the late Rebecca Lusk known to him as Mom.
Huggii attended and graduated from North Caroline High School where he was a star wrestler and football player.

Huggii was a member of the Army National Guards and Army Rangers where he was honorably discharged. He later became a Corrections Officer for the Caroline County Jail and went on to be a police officer at the Caroline County Sheriff's Department. Huggii knew as a young boy that his true passion was to be an over-the-road truck driver. He worked for several companies driving from the East to the West Coast – logging in over a million miles. Before going out on sick leave, Huggii drove for Woodbury Transportation where he formed a forever brotherhood with owner Tommy Leaverton.
Outside of driving the truck, Huggii enjoyed listening to and writing music, working out, and most of all, spending time with family and friends. In earlier years Huggii enjoyed entertaining at his home in Denton on Franklin St. His place was known as, "Huggii's Hut." Family and friends would be lined up waiting to smell diesel fuel indicating he was home and let the games begin.
Huggii was a very straight-to-the-point, hold-no-punches type of man who was loved and admired by many. He enjoyed telling jokes and brightening the day of anyone that came his way.

Even though he was on dialysis with chronic renal failure for over 16 years, Huggii began his journey of ministering to others in the dialysis unit. During that time, he and his family became members of Whole Counsel of God Ministries in Greensboro, MD, under Bishop Marvin Jenkins. There, he became the Bishop's armor bearer and a member of the Deacon Board. Also he formed his quartet gospel group, Born Again. He went through many challenges with his ministry. But with that as his passion, he continued to pray. With group members, John Coursey, Jesse Holland, and Jaron Seth, they would minister wherever the Lord called them.

Huggii leaves to deeply mourn his passing: his wife of 37 years, Darlene Bellamy. His children: Tiara Bellamy, Gregory Rochester (Naye), Tyrell Bellamy, and adopted daughter Tynisha Thomas. His grandchildren: Zayevien Rochester, Zakeem Rochester, and Makayla Bellamy. His adopted grandchildren: Tamia Thomas, Jamir Carter, Jermaine Carter, Jalaysia Carter, and Lamonte Dennis. One godson: Gavin Lake. His adopted mother: Ivory Coursey. Three brothers: Reginald Neal (Nadia), Louis Neal Jr, and Vince Neal. Two uncles: Henry Johnson, Sr and Thomas Johnson. Three aunts: Shirley Blackwell (Bob), Janie Johnson, and Annie Johnson. Several special friends: Helen Carter, Tommy Leaverton, Wendell Coursey, Fletcher Warner, Rayfield Wallace, Joseph Green and Eric McKeithan just to name a few. Along with a host of nieces, nephews, cousins, and friends.
Huggii was preceded in death by one sister: LaTrina Neal. Also multiple aunts and uncles.

| | |
| --- | --- |
| Click the button to generate a printable document containing all condolences submitted | |
Alisa Ball-Dukes

Posted Sun November 03, 2019

My love and prayers go out to my Cousin Poochie, Tiara and the rest of the family!! Huggi will surely be missed. You guys are in my prayers.
Reginald Neal

Posted Thu November 07, 2019

Spring's Bounty Basket was sent by Reginald (Reggie) Neal.

You are the best BIG brother. I love you.
Freedom Fellowship Christian Ministries

Posted Fri November 08, 2019

Freedom Fellowship Christian Ministries, Inc
1528 NE Turner Avenue
Arcadia, Florida 34266


Dr. Rev. Sharon T. Goodman, Overseer

November 8, 2019

RESOLUTION
Perhaps, sometimes, in the quiet hours,
We shall notice its sweet perfume
Steal softly down from the heavenly place.
'Till it seems to fill the room….

In His own way and for His own purpose God has reached down into
His garden & plucked one of his fairest flowers. He called home the spirit of
Bro. Bellamy to be with Him throughout eternity.

Bro. Bellamy lived his life dedicated to God & His glory, by faith, most of his life, and purpose was transformed—he was "alive unto God." His body was God's temple and his heart the Spirit's workshop. We express our gratitude to God for giving us this beautiful life among us, for a period of time, to blossom out and bless us with its sweetness and righteousness, like the fragrance of a rose.

The love of Christ, and for Christ, was the main spring of his life. His heart had been one throne and Christ sat upon that throne.

Rev. Dr. Sharon Thomas Goodman and our Church family express our deepest sympathy to Reggie and Nadia Neal and the Bellamy family, our Love and Prayers and may you all rely on our Lord & Savior Jesus Christ for strength.

Be it resolved that a copy of this resolution be given to the family with love.

Sorrowfully submitted,

Overseer, Dr. S.T. Goodman
FREEDOM FELLOWSHIP CHRISTIAN MINISTRIES, INC.

Funeral Committee:
Dr. Rev. Sharon T. Goodman, Overseer
Co-Pastor Wesley Brazell
Co-Pastor LaKenya Daley
Rev. Kameelah Goodman
FFCM Clerk: Cynthia Dawkins