Robert S Goldsborough
Born:
Wed., Jul. 5, 1944
Died:
Sun., Sep. 15, 2019
---
Visitation
9:00 AM to 11:00 AM, Sat., Sep. 21, 2019
Location
:
St. Luke's UM Church
---
Funeral Service
11:00 AM Sat., Sep. 21, 2019
Location
:
St. Luke's UM Church
---
---
---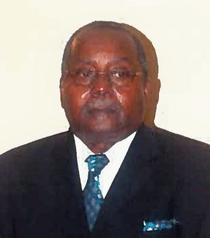 Deacon Robert S. Goldsborough, affectionately known as "Bobby," departed this life on Sunday, September 15, 2019 at home surrounded by loved ones. He was 75.
Bobby was born in Easton, Maryland on July 5, 1944 to Elizabeth Boulden Holland and the late Ernest Chester. He attended Robert Russa Moton School in Talbot County. He was employed by Mulholland Harper & Company for 37 years. He was also employed with Caroline County Public Schools for ten years until his retirement in 2015.
Bobby was a member of Abrams Memorial Holiness Church in Denton, MD where he was elevated to the office of Deacon by his pastor, Elder Thomas H. Fisher, Sr. He served faithfully as a member of the usher board and president of the Men's Ministry until his health would no longer allow.
Bobby's favorite hobbies were fishing, cooking, and playing pool. He liked to watch cooking shows, cowboy shows, and any sport especially football. He was an AVID Cowboys fan. He also was very passionate about seeing the youth succeed in education and athletics. He had a soft, kind, and gentle spirit - meek but not weak.
Bobby loved his family. He had a heart for his grandchildren and great grands. He will be sadly missed by his wife of 53 years, Elder H. Victoria Goldsborough, children, family and friends. Bobby was preceded in death by his grandfather, Isaac Harris; grandmother, Bertha Lee Harris; father, Ernest Chester; stepmother, Eunice Chester, Mother-in-law, Evang Louisa S. Boston; brother, Frederick "Bunny" Holland; sister, Allison Chester Hynson; and brothers-in-law, Charles Boston and Ronald Turner, Sr.
He is survived by his loving wife and caregiver, Victoria; children, Tuana, Tamara & Teran; mother, Elizabeth Holland; stepfather, Fred Holland; grandchildren, Tyra Gorham and A.J. Moore; great grandchildren, Alyiaha Christenson, Anthony Christenson, and A'Zia Moore; a special niece (like a daughter), Rasheme Chester; siblings, Ernestine Turner; Joyce Camper (Richard); Regina Holland; Charlene Holland (James); Kevan Chester (Angela); Jeffrey Chester; Stephanie Chester; stepsister, Josephine Seth; brothers-in-law, Allen Boston (Melanie), Milton Brooks (Michelle); Dwight Brooks (Fiesta); Mickey Hynson; sister-in-law, Darlene Boston and a host of nieces, nephews, cousins, and friends.

| | |
| --- | --- |
| Click the button to generate a printable document containing all condolences submitted | |
Valerie and Charles turner

Posted Wed September 18, 2019

Vicki know that my heart goes out to you and the family at this time. Stay strong. Know that Bobby is smiling down knowing that you're taking care of things. You know I'm just a phone call away.24
Sandy Demby Brown

Posted Wed September 18, 2019

Tee , I'm sooo sorry for the loss of your Dad , I'm sending my deepest condolences to You and Your Family
Brian Graham

Posted Thu September 19, 2019

Sincerest Thoughts was sent by CHOSEN 7.

Our deepest sympathy goes out to you for the loss of your father. May God give you and your family strength and comfort to withstand today and the days to come. Love your CHOSEN 7 Brothers (Lonnie, Felix, Willie, Steve, James, and Brian)
Omari Fennell

Posted Thu September 19, 2019

Open Skies was sent by Psi Iota Chapter, Omega Psi Phi Inc., Dover, DE.

Our prayers and condolences extend to the family during the transiting of your beloved. May GOD comfort and provide you with His abiding love, peace, power, and grace... Our deepest regards, Psi Iota Chapter Graduate Chapter, Omega Psi Phi Fraternity, Inc., Dover, DE
Savannah Jackson

Posted Thu September 19, 2019

Small Spathiphyllum was sent by Deacon Troy .

We offer our deepest condolences. May God grant you comfort & strength. Deacon Troy & Rev. Savannah Jackson (sister of Mrs. Angela Chester)
Allen Boston

Posted Thu September 19, 2019

Sincerest Thoughts was sent by Allen .

Rest in Peace. You fought the good fight... We will miss you Allen, Melanie, Darryl, Keenan; Angela and the boys
Dathome@comcast.net

Posted Fri September 20, 2019

Vicki, T, Tammy, and Teran,
I was surprised and saddened to hear of Bobby's passing. He was a good man and a great father. His involvement in your lives and the community was exemplary and was one we should all aspire to. Know you are in my thoughts and prayers at this difficult time.
Dan