Traditional Burial Arrangements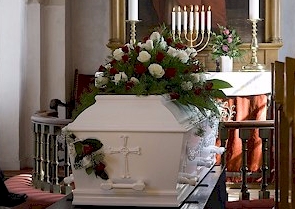 Ballou & Stotts Funeral Services provide a wide range of services within the Cumberland county area of Kentucky to meet the needs of all families we are privelaged to serve.
During this time of need, our staff is focused on allowing the family to go through the grieving process and being with family without being distracted or frustrated by details. We are here for you and your family to truly make this event the celebration of life for your loved one.
Arrangement Conference
This conference is of utmost importance, whether it be at the time of need or in a pre-arrangement setting. We take time during this conference to meet with the family, find out about them and the person they are arranging for, and assist them in determining what services will best serve them. The conference is the time where our relationship with the family is established. This meeting will decide, in detail, the 'personality' of the service desired. It is at this point the planning for the "Celebration of Life" begins.
Traditional Funeral Services
A traditional funeral service is when your loved one is present. Generally visitation is held the day or night before the funeral. The funeral service itself is held either in our funeral home, a church or other location, followed by a procession to the cemetery for a committal service, or if cremated, the deceased is returned to the funeral home.
Basic Services
Our basic services include, but are not limited to:
Staff and facilities necessary to respond to initial service request.
Sheltering of remains.
Gather personal information for, and assist family with, newspaper and radio obituary.
Preparation and filing of necessary permits and authorization relating to the death and burial or cremation.
Consultation with the family or other responsible party to determine services desired.
Ascertain times for visitation and arrange staffing for greeting family and friends. (Greeters are necessary to direct people and assist them with questions they may have.)
Arrange location for services such as funeral home, church or other setting for the service selected. (We have held services in our families' backyard, local civic center, reception halls, fraternal clubhouse, etc.)
Contact officiate, fraternal groups, veterans, musicians, etc.
Arrange floral arrangements.
Coordinating the details with the cemetery, crematory, and/or other parties responsible for the final disposition of the deceased.
Supervision of transfer to cemetery, or airport.
Embalming and Other Preparation of the Body
The embalming process includes preparation and sanitary care to ensure disinfection and preservation. Embalming requires specialized facilities and equipment. Other preparation of the body includes bathing, shaving, dressing, cosmetizing and casketing.
Use of Facilities and Staff for Visitation
We provide our Burkesville, KY Chapel for visitation.
Arrangement of visitation period.
Arrangement, setup, and maintenance of visitation room.
Attendants for visitation period.
Receiving and placement of floral tributes.
Use of facility for the following visitation period.
Use of Facilities and Staff for Funeral Ceremony
We provide either our Burkesville, KY Chapel for services.
Funeral home assistance prior to, during and following the services.
Coordination and direction of funeral services.
Use of facility for funeral service.
Direction of interment service.
Outside Service of Funeral Director, Staff and Equipment
(when service is at a location other than funeral home)
Funeral home assistance prior, during and following the services.
Coordination and direction of funeral services.
Preparation by funeral director and staff for transfer to funeral site other than funeral home.
Funeral director for additional time at site.
Necessary staff for additional time at site.
Use of specialized outside service equipment.
Direction of interment service.
Transportation Services
Use of utility vehicle.
Transfer of deceased to funeral home.
Use of funeral coach.
Other automotive equipment including use of service car (non Funeral Coach) for local disposition.
Funeral Merchandise
We provide a wide range of caskets to select from, and are able to obtain special order caskets within a short period. Our casket selections cover a wide variety. We offer masculine, feminine, religious, non religious, metal, wood, expensive, inexpensive and so on. There are floral themes, needlepoint, hunting, farming, golfing, etc. We try to touch all walkes of life in our casket selection room, but many others are available for special order (at no additional cost) that may be more fitting.
We also offer outer burial containers (vaults), cremation urns and pendants, monuments, register books, thank you cards, etc.