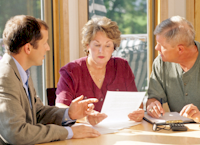 Pre-planning is an important part of estate planning and demonstrates love and concern for family members who must make important decisions at a very difficult time. You and your family will have peace of mind knowing that your funeral plans will be honored according to your wishes relieving them of an emotional and financial burden at a very difficult time. Pre-planning allows you to have the funeral you desire at the cost you prefer based on information you have acquired. With pre-planning you may pre-fund as much of your funeral as you desire. We have plans allowing you to fund your desired funeral plan monthly, quarterly, semi-annually or annually from 3, 5 7, or up to ten years. You decide how many years you need based on your own financial situation. Our pre-funded funeral plans place the burden of increased funeral cost into the plan on all guaranteed merchandise and services, not the consumer.
Please call our office and talk to a licensed funeral director for additional information on our advanced planning programs.
Arrangements can be made in the comfort of your own home by clicking the button below. Fill in as much as you are comfortable with and we'd be pleased to meet with you to discuss further. See the form below for details.